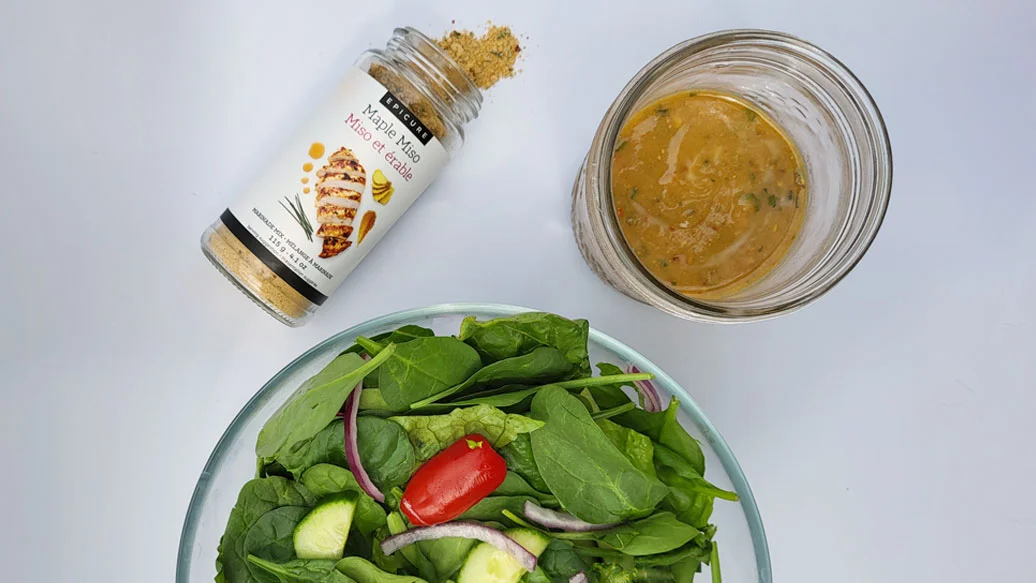 3 minutes
4 servings
$0.49/serving
This magic sauce will take your salads, grilled veggies, and meats to the next level! Sweet maple and earthy miso unite to create a delish balance of flavours that's versatile enough to be used as a dressing, dip or marinade. A key ingredient in this dressing is tahini, a smooth paste made from ground sesame seeds. Find it in the international aisle or natural foods section of most grocery stores. Thank you, Jocelyn Schmelter, for this recipe!
Ingredients
1⁄4 cup tahini
1 tbsp Maple Miso Marinade Mix
1 tsp rice vinegar
1 - 2 tbsp maple syrup
1⁄2 tsp sesame oil
Preparation
In small bowl, combine tahini, marinade mix, rice vinegar, maple syrup, and sesame oil.  
Nutritional Information
Per serving: Calories 120, Fat 9 g (Saturated 1 g, Trans 0 g), Cholesterol 0 mg, Sodium 50 mg, Carbohydrate 7 g (Fibre 2 g, Sugars 4 g), Protein 3 g.
Tips
This dressing is delicious poured over chicken or salad.